You're exhausted but as soon as your head hits the pillow you find your mind racing. What's that all about? How can you quiet your brain so you can fall asleep fast?
Here's something I came up with while I, too, was struggling to get to sleep. I call it "Dr. Jo's D.R.E.A.M Formula" because it uses DREAM as an acronym for the five steps for getting relaxed so you can fall asleep fast:
D = Deep Breathing
Those thoughts that keep us up at night are thoughts about the past or the future. And since you can't change the past and there's probably nothing you can do about the future at midnight, it's time to get back to the present moment. Focusing on the breath is a great place to be in the present. Start with some deep breaths and focus on blowing up your "belly" (the lower part of your lungs) as you inhale. Take in full breaths and then slowly let it out. Focus on your breath – perhaps the sound of your breath or the feeling of your breath in your lungs or the feeling of it coming in and out of your mouth or nose.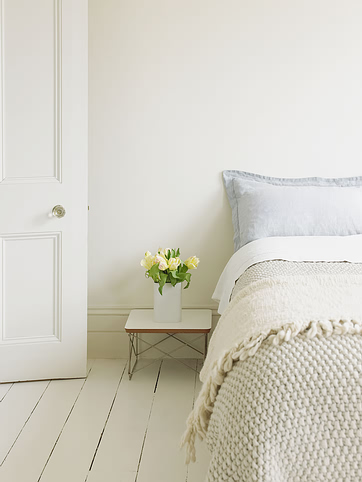 R = Relax
Next, work on releasing that tension that's keeping you awake. There are many ways to do this. Some people find it helpful to tense a part of their body and then relax it. Perhaps start from the toes – squish up your toes and then relax them. Then tighten your legs and then relax…and so forth, up the body. Personally, I like starting from the top of the body since I tend to accumulate most my stress in my face and my shoulders. I don't tighten parts of my body, I just focus on releasing tension with each breath. With my first exhale, I'll relax my forehead. With the next exhale, I'll let the tension in my cheeks go. The next exhale releases my jaw, and then my shoulders, chest, legs, etc. If I notice the tension building back in my head, I start back up there. There's no one way to relax your body, just keep testing what works for you.
E = Erase
Chances are your thoughts keep you awake. As you take your deep breaths and relax, don't fight those thoughts that pop into your mind. Instead, imagine them drifting away on a cloud or on a leaf floating down a quiet stream. I have this strange way of erasing my thoughts. I imagine a paint roller "painting" over them. (It helps to write down all your worries, your "to do's", etc. so that when thoughts come into your mind you can say, "It's down on paper. I won't forget, but there's nothing I can do right now.").
A = Affirmations
It's hard to think of two things at once, so it helps to repeat a peaceful word in your mind – to prevent those thoughts and worries from popping into your brain. As I exhale (and relax my body), I say the word, "peace." Pick a word that helps you relax.
M = Mental Image
If you're still awake after all the first four steps, put a different imagine into your brain. Picture a calm, peaceful place. It could be someplace you've been or it can be imaginary. Some people choose the beach, others think of being on top of a mountain. Though I like to hike mountains and love the views (and never risk my life), I can't think at bedtime about hiking because my brain starts imagining a slip off the side of the mountain. Seriously! So, find something that works for you. Sweet dreams!
This is excerpted from Dr. Jo's How to Stay Healthy & Fit on the Road.
Need More Help Getting Better Sleep?
Five Reasons You're Still Tired in the Morning
Eight Reasons You Can't Get to Sleep – or Stay Asleep